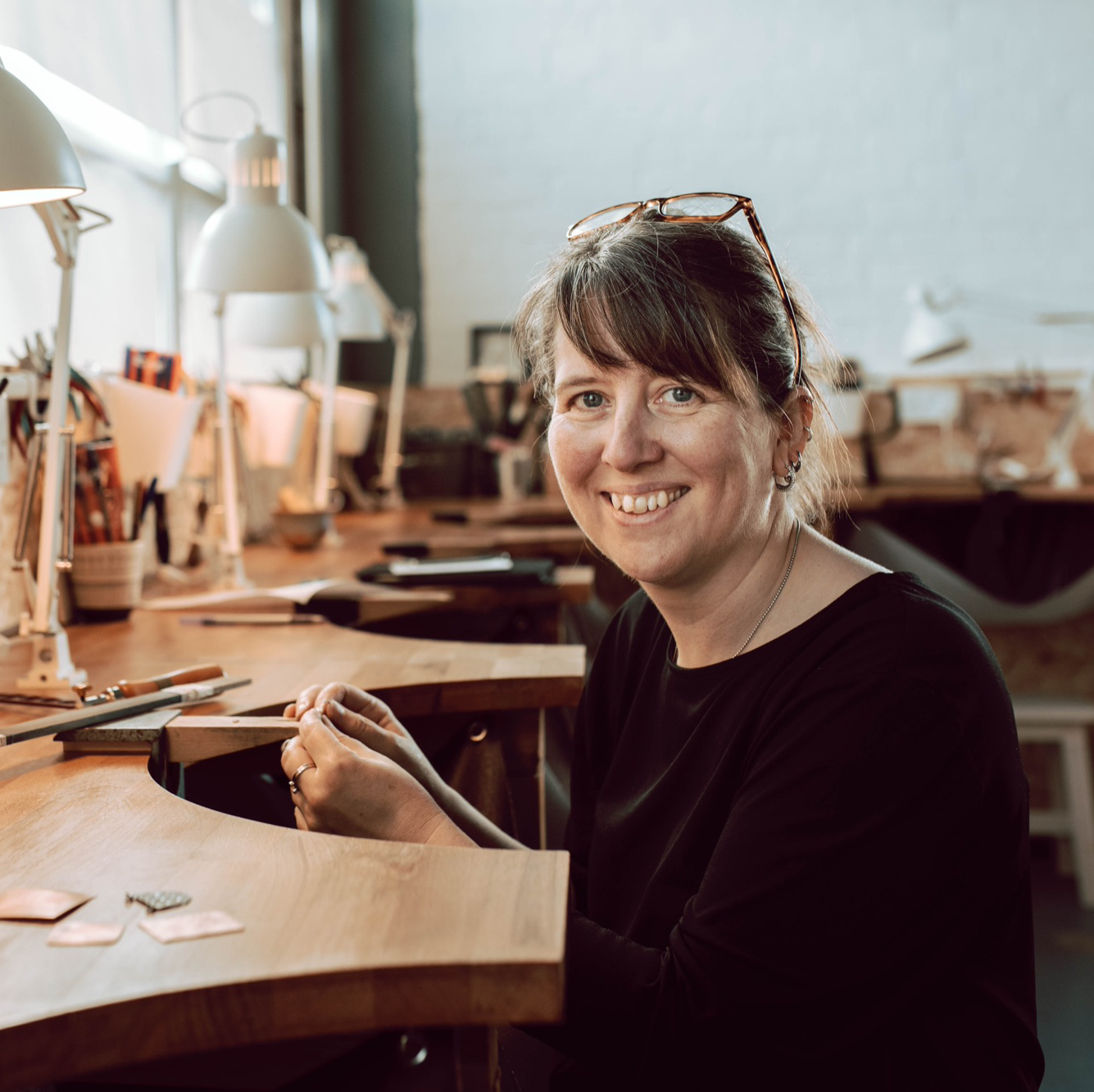 Jeweller, teacher, owner, creator, admin, cleaner, and all the other job titles that come with a small business.
I've been a maker for most of my life, but more recently jewellery for the last 20 years or so, and I've been teaching for around 11 years. I'm a doodler in my spare time, like to make my own clothes when I get the chance.
I created The Fox Studios to be a place where anyone can come, no matter their ability, and learn some new skills and maybe make a friend or two a long the way.
On hand to assist with email enquiries and book you onto the workshops I am the admin assistant and fellow student at the Fox Studios.
I have loved arts and crafts from a young age. Trying my hand at any craft going - you name it I've probably done it! Looking around for the next creative craft to try it was only a matter of time before I sampled jewellery making. I started taking evening classes at the Fox Studios little knowing I would be working for Heather a few years later. The classes are great in combining learning and with a the social side. In keeping with my love of learning new techniques I have tried my hand at stone setting, granulation, wax carving, enamelling and aluminium to name but a few.
Jewellery making entered my life in 2014 whilst living in Hangzhou, China. After teaching myself wire wrapping from books and online tutorials, I met a local silversmith who was willing to teach me soldering and stone setting.
The following year I travelled to the U.S. to develop my craft at Creative Side Jewelry Academy in Austin, Texas. I took a week long wax carving class with the amazing Kate Wolf and a six week intensive course with Ronda Coryell. This gave me the foundation that I needed to start making jewellery. In 2017 I joined a local jewellery business as a bench jeweller and eventually managed their production studio until August 2022.
I have a passion for making one-of-a-kind pieces and work primarily with sterling silver and gold. (Although argentium silver holds a special place in my heart, too!) I have been having so much fun passing on my knowledge of jewellery making to the students at The Fox Studios and seeing their finished pieces. I'm looking forward to teaching more workshops this year and growing with the students. Amie Goetz Jewelry | Facebook
Hello my name is Faith, I am a full time registered veterinary nurse and part time silversmith. I started my jewellery journey in Dec 2019 I started creating wire wrapped jewellery at first as this didn't require many tools, then I got the bug and wanted to learn more techniques. I took some courses with Heather at the fox studio and loved it. I now produce jewellery using Eco silver and try to use all my scraps reducing wastage as much as possible. For example I use the silver 'dust' from my sawing to produce my Moon and star dust pendants, the dust is placed onto of the silver pendant and melted to create a beautiful textured surface Handmade eco silver jewellery – Sparkle by Faith